Braze Space Invaders Deluxe Free Play and High Score Save Kit Multigame
Space Invaders Space Invaders Deluxe Jatre Specter Lunar Rescue Space...
more
Product information "Braze Space Invaders Deluxe Free Play and High Score Save Kit Multigame"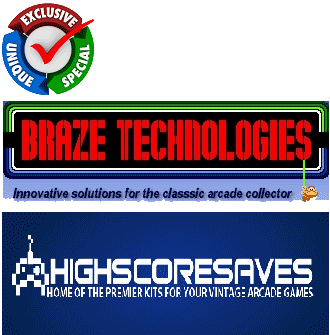 Space Invaders

Space Invaders Deluxe

Jatre Specter

Lunar Rescue

Space Laser

Balloon Bomber

Galaxy Wars *

Super Earth Invasion
Plus many extras features such as Free Play, High Score Save, powerup Diagnostics, on-screen configuration Settings, and a interactive testmode.
Easy to install kit that extends your Midway Space Invaders or Midway Space Invaders Deluxe boardset to play 8 games.
Kit installs in minutes! No soldering or special skills needed. No special wiring or switches are needed! Switch between games by simply pressing both the player-1 and player-2 start buttons at the same time. A game selection menu will appear. Includes on-screen game configuration settings and high score save for all games.
This is must have for any Space Invaders owner!
* Galaxy Wars does not support Free Play
FAQ (Frequently Asked Questions)
What board types will this kit work with?
This kit (initially) only works for the Midway black and white monitor style game. The board set can be either Space Invaders or Space Invaders Deluxe. The board set consist of 2 pcbs in an L shaped configuration.
I hope to some day offer this kit for the Taito color monitor style game (3 pcb board set stack).
Will it work in my cocktail game?
Yes it should, as long as it is a Midway black and white style cocktail and not the color taito version. It should be noted that the game software is unaware of whether the game board is installed into a cocktail cabinet or an upright cabinet, and that differences (strapping options) on the sound/input pcb of the boardset determine if it is configured for cocktail or upright. Additionally, the cocktail screen flipping function is done by relays in the monitor itself which will swap the yoke wires.
What are the differences in the real games versus the multigame?
Good question. The answer apart from the extra features (such as free play, diagnostics, and high score save), would be sounds. I only own SI and SID games, so I'm not sure at this point how different the sounds are for the other games. All sounds are mapped onto the 8 available sounds that your SI/SID boardset provides. The sounds for SI/SID are close to identical.
Additional configuration options have been added that were not available on the original games. Such as more options for number of laser bases and extra score levels for bonus awards including no bonus awards.
Some games have extended scoring which was not part of the original game
Related links to "Braze Space Invaders Deluxe Free Play and High Score Save Kit Multigame"
Read, write and discuss reviews...
more
Customer reviews for "Braze Space Invaders Deluxe Free Play and High Score Save Kit Multigame"
From:
Rocky
On:
10 Aug 2021
Only way to own a Space Invaders Deluxe!
Works great and the added games well worth it! Not just fluff! I've added SID to the Twin Galaxies high score leaderboards, love to see some submissions!
From:
Shane
On:
22 Dec 2020
From:
Chad
On:
7 Jun 2020
Cannot believe I just heard of this kit. Double thumbs up!!
Write a review and tell everyone what you think about this product
Reviews will be activated after verification.
Questions and Answers...
more
Here are some common FAQ's / Questions for this product