No results were found for the filter!
Track & Field | Hypersports JAMMA Adapter
This is a Track & Field | Hypersports adapter that lets you play a 36 pin Konomi/Bootleg pcb in you JAMMA setup.
Nintendo Rainbow Power Cable
This Nintendo Rainbow Power Cable, Part #DJR-89-11 is a 10 pin power harness connector between the CPU and Video pcbs of a two board Nintendo stack. Compatible with - Donkey Kong Donkey Kong Jr Donkey Kong 3 Mario Bros Popeye
SW/ESB 12K VRAM UPGRADE
THE SW/ESB 12K VRAM UPGRADE IS A MODULAR REPLACEMENT FOR THE SIX 2K X 8 SRAMS ON THE STAR WARS VECTOR BOARD.
BALLY/MIDWAY Cardrack Motherboard
Here it is! Your answer to flaky cardrack motherboards for Gorf, Robby Roto, Space Zap and Wizard of Wor! This is a new reproduction that is clean as a whistle and doesn't have 40 years of dirt and grime sitting inside the edge...
SEGA G80 Basic BUSS Card Extender
Tired of pulling your pcbs out of the cage to test? You have to pull one out, trying not to move the others (which NEVER works), so, you remove the one in front of it, now the one behind it....Well, no more! You can install this extender...
6100 Monitor LV Regulator Upgrade
REPLACEMENT FOR THE TROUBLESOME LV SECTION ON THE 6100 DEFLECTION BOARD. Soldering and de-soldering will be necessary to install this upgrade.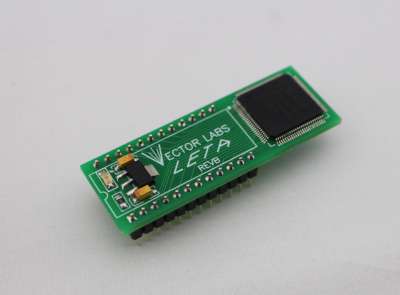 LETA REPLACEMENT CHIP
THE LETA REPLACEMENT CHIP REPLACES YOUR OLD OR DEFECTIVE LETA CHIP IN GAMES LIKE MAJOR HAVOC AND UTILIZES NEW SURFACE MOUNT DEVICES TO PROVIDE YEARS OF TROUBLE FREE OPERATION.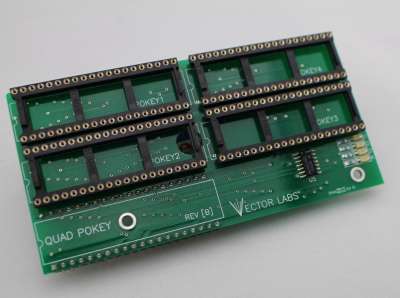 Vector Labs Quad Pokey Replacement
This board replaces the hard to find quad Pokey chip with four individual Pokey sockets which is used on games like Major Havoc. A more elegant and reliable solution for your Atari pcb. You are able to order NOS individual Pokey at a...
Any Coin Mech for Home Arcades
This has been designed to be a direct replacement for existing arcade coin mechs such as those made by HAPPS, Coinco, Imonex, and others. Here are the key features: Drop in replacement for existing arcade coin mechs Takes anything from...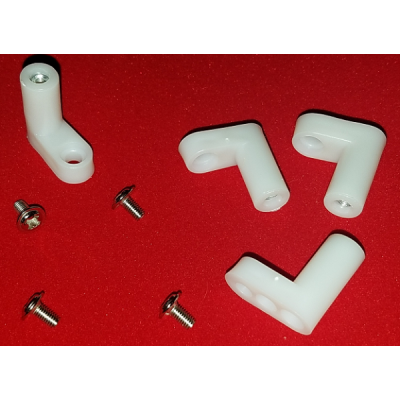 PCB Feet Mounting Kit
PCB Feet Mounting Kit This kit includes: 4 White PCB Feet 4 Screws PCBS are NOT included. We recommend that when transporting a game using these brackets you make sure the PCB is secure or remove it from the game. This kit includes: 4...
Universal 6 pin Kick Harness by HighScoreSaves
6 pin Kick Harness by HighScoreSaves Able to be used with - Arpicade! Other uses too! These are approximately 4 foot long to give you the length needed Each wire has a .187 female quick disconnect on all for attaching to the terminal on...
Atari 5k pot (potentiometer) with slip clutch NOS
These are actual NOS Atari 5k pots TYPE EJ with the special slip-clutch feature. These were used by all Atari games which used 5k pots. Games they work in, could be more - Warlords Paperboy Star Wars Pole Position Return of the Jedi APB...