No results were found for the filter!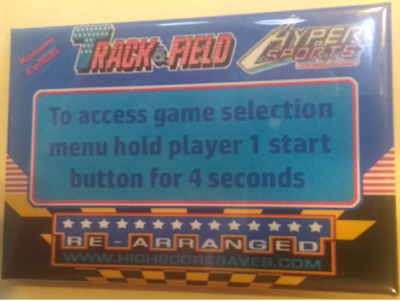 Hyper Sports Multigame Instruction Magnet
These are 2x3 inches and will stick to any ferrous metal (steel control panels, coin doors, etc.).
Track & Field | Hypersports JAMMA Adapter
This is a Track & Field | Hypersports adapter that lets you play a 36 pin Konomi/Bootleg pcb in you JAMMA setup.
Hyper Sports | Track and Field | Rearranged...
Soldering required Save your scores forever - We use a serial eprom, not a failure prone NVRAM or batteries. 1,000,000 write/rewrite cycles! High Score Save - Saves the Top 10 scores on Track & Field, Top 13 on Hypersports and Top 23 on...
Online Hyper Sports | Track and Field |...
You will receive a customizable web page for all of your online save kits! Visit our HighScoreSaves GLOBAL web page for all the HyperSports High Scores from across the globe! Click the pic - More information about online vs offline...