Policies
Shipping & Delivery:
Shipping is usually scheduled within 2 - 4 business days. If you have any concerns, please contact us directly.
We ship with: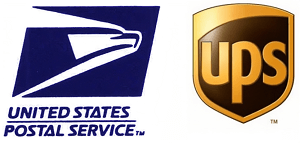 Shipping within the USA will ship with either USPS or UPS. This will depend on the size and weight of the box being sent to you at the sole descretion of Highscoresaves.com.
Standard domestic (US) shipping 2-5 business days are USPS Ground Advantage, USPS Priority or UPS Ground
Shipping outside the USA will ship with either USPS First Class, USPS Priority or UPS Expedited services. This is depending on what you as the customer chooses for the shipping. Any overages in shipping will be refunded to your original payment when the shipping label is printed.
Packages/Orders over $400 will be sent with signature required. Packages/Orders over $750 will be sent insured and signature required.
USPS First Class International Shipping (7-14 Business Days) - USPS First Class International will be used.
UPS Expedited International Shipping (2-5 Business Day Delivery) - UPS Expedited service will be used.
Only UPS or USPS services are used by Highscoresaves

Overnite or Second Day Air Services are not available
NOTE (If you are in the UK) -
Only orders over $175USD will be accepted due to UK VAT/Tarriff laws as of 1/1/2021.

If this is an issue, we highly recommend looking for the product in our ebay store. Ebay does the required paperwork needed.
Lost or Stolen Packages:
If your package has been confirmed delivered via USPS and you did not receive it, you must file a claim with USPS. Unfortunately, we are not responsible for any LOST or STOLEN packages, only that packages are delivered.
Once you file a claim with USPS, the driver on your route will investigate to verify if the packages were accidentally delivered to a wrong address.
If you decide to file a claim through PayPal, your tracking number is automatically uploaded which will state that your package was indeed delivered. Please note, the only instance that we will re-ship your product is when tracking confirms that the package was lost/delayed during the TRANSIT period.
For all shipments, domestic or international:
Shipping fees/charges are not refundable. This includes all purchases UNLESS there was an error from Highscoresaves. It does not include returns for multiple delivery attempts, ordering improper product or any of the like
Any foreign shipment may be applicable for taxes and import fees. Please be aware that HighScoreSaves.com does not control these and are not responsible for them either. They are the responsibility of the consumer.
You must provide a phone number for all international packages
We cannot and will not change prices of items to reflect a lower import customs fee. Please do not ask
In addition, it has been necessary that the following countries be shipped only by UPS Expedited [signature required] due to longer than normal "hold times" by the local agencies.
Unfortunately, any other shipping choice other than "Premium International Shipping (2-5 Business Day Delivery)" will be refunded automatically for the above Countries
Sorry, we do not ship to Brazil or Mexico

Duties and Taxes:
Import duties, taxes, and brokerage fees are not included in the product price or shipping and handling cost and it will be collected upon delivery from the carriers for certain packages. These charges are recipient's responsibility as we are only charging the transportation fee for the packages. You may check with your country's customs office to determine what these additional costs will be. Additionally, you may review below additional information for shipments shipping to Canada which can imply to other countries as well.
Additional Information:
Below are some additional information regarding international shipments going to Canada you may reference as well as refer to sites such as www.thefinalcost.com in order to get an estimate on these import costs.

Brokerage Fees:
The brokerage fees are a processing fee charged by the shipping company. This fee includes filling in a customs form to indicate the contents and value of the shipment and calculating duty and taxes.
UPS:
When UPS Customs Brokerage handles your imports, there is no Entry Preparation Fee for routine customs clearance of UPS Worldwide Express Plus, UPS Worldwide Express, UPS Worldwide Express Saver, and UPS Worldwide Expedited shipments, including up to five classification lines. Charges may apply for more complex customs clearance procedures.
(Source: http://www.ups.com/content/ca/en/shipping/cost/zones/customs_clearance.html )
USPS:
For USPS, goods valued under 20 Canadian dollars are duty and excise tax exempt. Goods over 20 Canadian dollars will be subject to the applicable duties and excise taxes. Gift shipments received by mail that are valued under 60 Canadian dollars are duty and excise tax exempt.
For all casual and commercial items valued under 1,600 Canadian dollars, Canada Post will collect the assessed duties and excise taxes and a handling fee of 5 Canadian dollars from the addressee.
For Express Mail International items, the handling fee is 8 Canadian dollars. All commercial mail items over 1,600 Canadian dollars will be held by Canada Customs and Excise until proper invoice and accounting documentation is provided by the addressee. (Source:http://pe.usps.com/text/Imm/ce_003.htm#ep2041503 )
Taxes:
Each item entering Canada will be charged GST (General Sales Tax) and PST (Provincial Sales Tax - varies by province) based on the declared value.
Duties
Under NAFTA, items that are deemed manufactured in the US (and Mexico) are duty free. A duty (percentage) may be charged if the item is manufactured in another country.
*High Score Saves will not declare any false indication on the customs to avoid or reduce these fees.
Privacy & Security:
This privacy policy discloses the privacy practices for www.highscoresaves.com. This privacy policy applies solely to information collected by this web site. It will notify you of the following: What personally identifiable information is collected from you through the web site, how it is used and with whom it may be shared. What choices are available to you regarding the use of your data. The security procedures in place to protect the misuse of your information. How you can correct any inaccuracies in the information.
Information Collection, Use, and Sharing:
We are the sole owners of the information collected on this site. We only have access to/collect information that you voluntarily give us via email or other direct contact from you. We will not sell or rent this information to anyone. We will use your information to respond to you, regarding the reason you contacted us. We will not share your information with any third party outside of our organization, other than as necessary to fulfill your request, e.g. to ship an order. Unless you ask us not to, we may contact you via email in the future to tell you about specials, new products or services, or changes to this privacy policy.
Your Access to and Control Over Information:
You may opt out of any future contacts from us at any time. You can do the following at any time by contacting us via the email address or phone number given on our website. See what data we have about you, if any. Change/correct any data we have about you. Have us delete any data we have about you. Express any concern you have about our use of your data.
Security:
We take precautions to protect your information. When you submit sensitive information via the website, your information is protected both online and offline. Wherever we collect sensitive information (such as credit card data), that information is encrypted and transmitted to us in a secure way. You can verify this by looking for a closed lock icon at the bottom of your web browser, or looking for "https" at the beginning of the address of the web page. While we use encryption to protect sensitive information transmitted online, we also protect your information offline. Only employees who need the information to perform a specific job (for example, billing or customer service) are granted access to personally identifiable information. The computers/servers in which we store personally identifiable information are kept in a secure environment.
Updates:
Our Privacy Policy may change from time to time and all updates will be posted on this page. If you feel that we are not abiding by this privacy policy, you should contact us immediately.
Ordering:
All ordering is done through the website. We are not able to take your financial information via telephone (for security reasons) We want your information to be secure.
Payment, Pricing & Promotions
Payments are made using PayPal or Credit/Debit card. All pricing and promotions are subject to change due to cost of goods.
Updating Account Information:
Please keep all your contact information correct through PayPal and your registered account with High Score Saves.
Mailing will only happen to address listed on your PayPal or credit/debit account.
Terms of Service:
Terms of Service | High Score Saves
Returns & Replacements:
Need to return an item? | High Score Saves