Mini Arpicade JAMMA adapter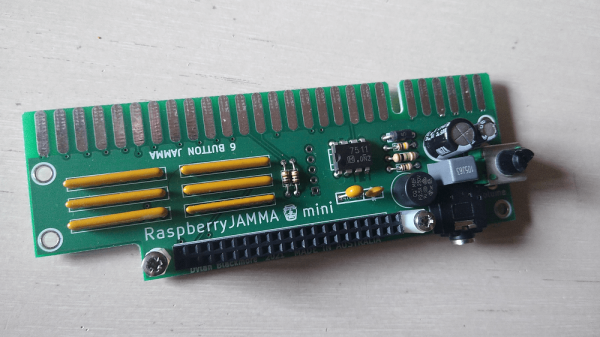 The Mini RaspberryJAMMA is a Raspberry Pi JAMMA adapter that converts a...
more
Product information "Mini Arpicade JAMMA adapter"
The Mini RaspberryJAMMA is a Raspberry Pi JAMMA adapter that converts a Raspberry PI into a true JAMMA board, allowing you to run tons of cool RPi software and emulators. ARpiCADE is the operating system that runs the RaspberryJAMMA.
No modification to your JAMMA arcade cabinet is required. The Mini is configured for 6 buttons off your JAMMA harness (fully populated harness) Please see the "CHAMMA" wiring of the harnsess HERE)
Video out is off the Raspberry Pi itself (HDMI) or can be used with a DAC for LCD/LED monitors.
This is a lower cost solution for your high resolution (LCD/LED monitor) arcade cabinet!
This is a "bare bone" Raspberry Pi JAMMA adapter. Compared to the "Original Arpicade" it is missing a few of the options of the full board.
Differrences -
Cannot use CGA (Low Resolution) images

Cannot be used with the 4 player adapter
The controls are ALWAYS set to 6 buttons off your JAMMA harness (No dip switch options or Kick Harnesses)
This product is aimed more for the upgrade to a 60in1 / Pandoras Box cab crowd or perhaps even makers of new custom cabs than the vintage cab owners. I get it if it doesn't really interest you, no pressure, don't be dazzled by the gold pcb! They are actually gold plated (actually, it's "hard" gold over nickel) ;)
This is available without the DAC (although there is an option to purchase if you are using a LCD/LED flat screen monitor). If you are using HDMI, just plug it into the Pi itself!
Now, you CAN use a Pi4 with this pcb adapter!
Pi4 can play Killer Instinct, but needs overclocking and even then, not perfectly... as it stands I don't plan to include it in any images. In my opinion, the best thing about Pi4 is being about to run more games in newer MAME versions, unfortunately, the game list doesn't change too much but the emulation may be a bit better. It can play some games the Pi3 can't very well though, SEGA NAOMI works pretty nicely (mostly) on Pi4...
Arpicade images are not returnable, but happy to exchange if an issue occurs.
Downloads and Tech Forums (Click Pic)
Related links to "Mini Arpicade JAMMA adapter"
Available downloads:
Read, write and discuss reviews...
more
Customer reviews for "Mini Arpicade JAMMA adapter"
From:
Henry S
On:
27 Jul 2021
Very easy to upgrade my 60-in-1 pcb
Took a few minutes to out together. I bought the vertical 700 game image. Loaded it into the Pi and poof! Instant upgrade from 60 games to over 700! Thanks Highscoresaves, very fast shipping
Write a review and tell everyone what you think about this product
Reviews will be activated after verification.
Questions and Answers...
more
Here are some common FAQ's / Questions for this product
Can I use a HDMI monitor?
From Henry on 27.07.2021 23:10.
I want to use a monitor that is both HDMI one VGA plug. What should I do?
This is the perfect product for you!
You can plug the HDMI cable directly to the Pi from the monitor, or, you can purchase a DAC and use the 15 pin plug for High Resolution VGA.
Hope that helps!