This package includes - 4 Player Add On Adapter ArPiCade is...
more
Product information "ArPiCade JAMMA Adapter 4 Player | 4 Player Adapter only"

This package includes -
ArPiCade is a Raspberry Pi JAMMA adaptor that converts a RPi into a true JAMMA board, intended for you to do whatever it is you want with. No modification to your JAMMA cab is required (unless you want to add a kick harness). It can be configured for normal JAMMA (w/ optional kick harness) or for 6 buttons on JAMMA via dipswitches. Video out is RGBS on JAMMA or can be reconfigured to output higher resolutions through VGA. The board features amplified mono sound or line level stereo can be used
Welcome! You are about to get involved with the FIRST 3 or 4 Player Multi for your dedicated cabinet! Yes, this will allow you to play all your favorite 3 and 4 player games in a single CGA (Old School Tube Monitor) cabinet! We also understand that some of these old tube monitors are harder and harder to fix/replace/find. So, we have changed up some things so you can use a LCD (Flat Screen Monitor) in your arcade cab!
The Arpicade will run on all standard JAMMA harness cabs. Yep. Standard JAMMA. The 3 or 4 player Arpicade simply plugs into your wiring harness. No need for an adapter (wall wart) to plug into the Raspberry Pi 3b+. The power comes from the standard JAMMA harness (which gets it from your switcher inside your cabinet.
Want to know the cool thing?
The wiring harnesses (purchased separately) is what connects your additional 3rd and 4th player controls. You can do it yourself, or just purchase from Highscoresaves. Your player 1 and 2 controls are already there on the standard JAMMA harness. HOWEVER, they do not go past the 3rd button...ever. Some will only have one or two buttons connected. This is an issue you need to solve before using this product. Some of you may drill additional holes in the control panel because the buttons don't exist.
Let me give you an example...XMEN.
XMEN requires you to use 3 buttons (the 3rd being for MUTANT POWERS). Well, you cannot do that on a 4 player, 2 button cab. Does the cab have the 3rd button wire on the standard JAMMA harness? You need to look and verify. The harnesses are for players 3 and 4 only.
Now, there is a connector on the original Arpicade that allows you to use buttons 4, 5 and 6 (think of the bottom row of buttons on a Street Fighter). That's cool and that is what the 6 wire harness is for. If you don't plan on using the Arpicade on those type of games, then, you do not need the 6 pin harness!
Heres a pick of that connector -
Let's look at the information below -
What type of Raspberry Pi do I need?
We try to make this simple. The easiest way is to purchase through us. But, you are free to order from wherever you like. The images are only compatible with the Raspberry Pi 3b+, so, as of today, that is the only one we carry. If you have your own, cool! Just make sure it is the proper one. You have to verify it is the 3B+, we don't know what you already have. The Images are designed to work on RPi 3B+ only.
CAUTION - WHEN INSTALLING THE 4 PLAYER ADAPTER PCB, YOU NEED TO ENSURE THAT THE PINS ARE ALIGNED PROPERLY. AGAIN, ENSURE PINS ARE ALIGNED PROPERLY OR YOU CAN BURN OUT YOUR Pi! THERE SHOULD BE A SMALL GAP ON THE SIDE THAT YOU CAN SEE THAT THE PINS ARE CONNECTED TO THE 4 PLAYER ADAPTER PCB. See PDF.
Harnesses -

These are harness options if you do not like wiring your own. These are premade and designed to be plug n play.
You will need a -
6 pin harness if you want buttons 4, 5 and 6 to work on player 1 and player 2

9 pin harness for Player 3 and Player 4 (two harnesses total) for a Konami Cab/Image

15 pin harness for Player 3 and Player 4 (two harnesses total) for cabs like NBA Jam/All Games image
The harnesses go from the adapter to your control panel. So, to make it simple, see below.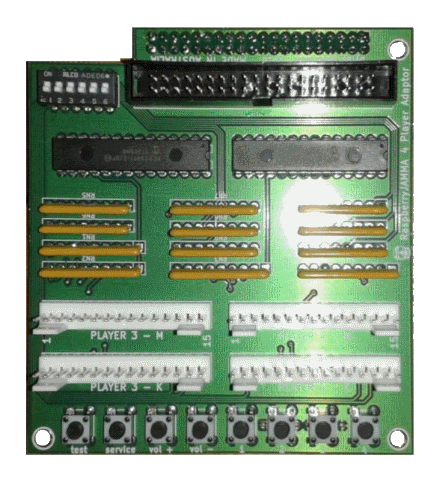 The 6 pin harnesses will have 6 wires populated on the 6 pin connector. There will be 3 additional wires that are not connected to anything on either end. That's ok, just tuck/wrap them out of the way. This has a ground wire daisy chain on it.
The 9 pin harness does have a 15 pin connector. WHAT?!?! I don't want to confuse anyone, that's just the way it came from the factory. They only use 9 wires though. Some of the connector will have empty spaces with no wire. This has a ground wire daisy chain on it.
The 15 pin harness is fully populated. There are 15 wires on the connector. There are also enough ground wires to attach to each microswitch on the control panel. Pretty cool, huh?
Now, some of you may already have 3 and 4 player kick harnesses with your current game. AWESOME! Use them if you can. These harnesses are created with the mindset that you do not have those.
The 9 pin (not fully populated 15 pin connector) Konami harnesses go with the Konami Image

The Full 15 pin harness goes with the All Game image
Downloads and Tech Forums (Click Pic)
Sold in conjunction with -
Related links to "ArPiCade JAMMA Adapter 4 Player | 4 Player Adapter only"
Read, write and discuss reviews...
more
Customer reviews for "ArPiCade JAMMA Adapter 4 Player | 4 Player Adapter only"
Write a review and tell everyone what you think about this product
Reviews will be activated after verification.