No results were found for the filter!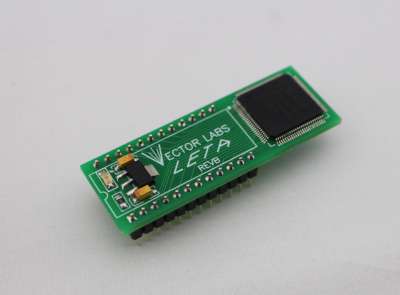 LETA REPLACEMENT CHIP
This will not be available until 3/2024...parts shortage and on backoreder.. THE LETA REPLACEMENT CHIP REPLACES YOUR OLD OR DEFECTIVE LETA CHIP IN GAMES LIKE MAJOR HAVOC AND UTILIZES NEW SURFACE MOUNT DEVICES TO PROVIDE YEARS OF TROUBLE...
PROM 82S129
This is a service to burn the PROM for games listed above. Inquire if you have another game that may use this PROM. This includes the prom and programming of the prom. Known as - PROM 82S129 136002-125 036408-01 Used in games like -...
Atari Pokey C012294 NOS
Ships for FREE CONUS. All other countries will need to pay shipping, sorry. Any shipping charges that are applied, will be refunded ASAP, usually when the label is printed. So, buy 1, get the $6.95 refunded back, buy 10, get the $69.50...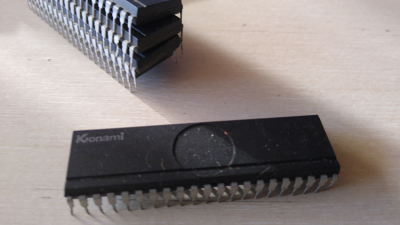 Konami 1 CPU
Konami 1 CPU - Used in arcade games like - Circus Charlie Gyruss Jail Break Track & Field/Hyper Olympic Hyper Sports/Hyper Olympic '84 Mega Zone Juno First Road Fighter Roc'n Rope Finalizer - Super Transformation Super Basketball & More!
Donkey Kong rom set
This is a service to burn 12 roms to play on a Donkey Kong pcb A total of (4) 2532s and (2) 2716s for the CPU Board (6) 2716 eproms for the video pcb You can also add the 3 color proms located at - ON 2 PCB STACK - 2E / 2F ON THE CPU PCB...
Konami 054544 Audio Module
Konami '054544' audio module reproduction without DAC and ASIC The reproduction will come complete with all of its parts EXCEPT the ASIC 054321 and the AD1868R DAC which you have to source and install on your own.Please note that 1.778mm...
Seibu HB-41 reproduction
Seibu 'HB-41' reproduction Reproduction of the Seibu 'HB-41' audio custom IC you can find on some arcade PCBs like: •Raiden •Blood Bros •Legionnaire •Sky Smasher •Toki •Dynamite Duke •Olympic Soccer '92 •Cabal •Heated Barrel •Operation Wolf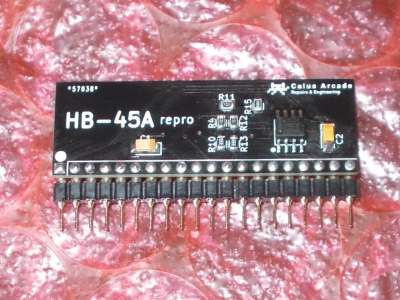 Seibu HB-45A reproduction
Seibu 'HB-45A' reproduction Reproduction of the audio custom IC marked 'HB-45A' found on some PCBs manufactured by Seibu like: Raiden II / DX Zero Team
Toaplan 'HK-1000' reproduction
Toaplan 'HK-1000' reproduction Reproduction of the 'HK-1000' custom IC (used for inputs handling) you can find on these Toaplan arcade PCBs: Tatsujin Oh/Truxton II FixEight Ghox Pipis & Bibis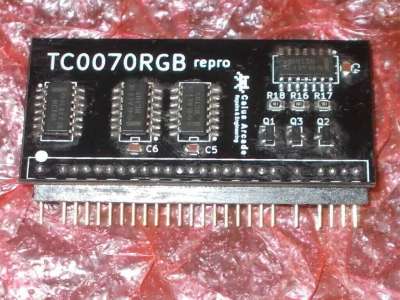 Taito 'TC0070RGB' reproduction
T aito 'TC0070RGB' reproduction Reproduction of the 'TC0070RGB' custom RGB DAC used on Taito arcade PCBs such as: Rainbow Islands (Normal and Extra version) Bonze Adventure Cadash Continental Circuit Chase HQ Operation Wolf Final Blow...
Konami '051550' reproduction
Konami '051550' reproduction Reproduction of the custom IC '051550' (used for RESET generation and coin counters/lockouts handling) found on many Konami PCBs from mid 80s to the late 90s
Taito 'PC030CM' reproduction
Taito 'PC030CM' reproduction Reproduction of the custom IC 'PC030CM' (it handles coin inputs/counters and lockouts ) found on Taito PCBs such as - Arkanoid Big Event Golf Bubble Bobble Tokio/Scamble Formation